"Seek out strong women to befriend, to align yourself with. To learn from. To be inspired by. To collaborate with. To support. To be enlightened by." —Madonna
When Gina Rodriguez loved her body.
Looking at her cover of Women's Health, the actor wrote, "My curves are healthy and strong and I work hard to feel good in my skin, I work hard to combat the images that make me go inward and destroy my self acceptance/confidence. No longer will I allow those lies to win. Beauty belongs to everyone."
Rich Polk / Getty Images
When America Ferrera became a force for change.
At an awards show hosted by the Feminist Majority Foundation, the actor said, "The very first film I did, Real Women Have Curves, received a response from so many — not just women, not just Latinas — all kinds of people from around the world who saw themselves. And I realized what I already knew as a young person: the power of seeing ourselves, being shown ourselves, being shown our own potential as women, as human beings, as people of color, as people from disadvantaged backgrounds. … It was then that I went from wanting to be a famous, successful actress to wanting my work to matter."
Nicholas Hunt / Getty Images Entertainment
When Jenny Beavan didn't do heels.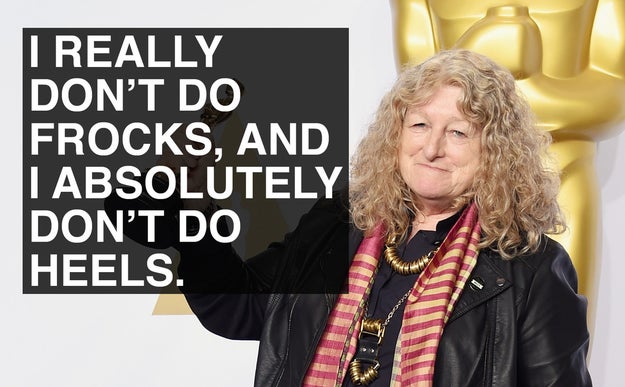 The costume designer showed up to the famously chichi Academy Awards to claim an Oscar for Mad Max wearing a fake leather jacket and boots. She said, "I really don't do frocks, and I absolutely don't do heels. I simply can't wear them. … I just like feeling comfortable. And I'm sorry, as far as I'm concerned, I'm really dressed up."
Jason Merritt / Getty Images
When Madonna called out sexism.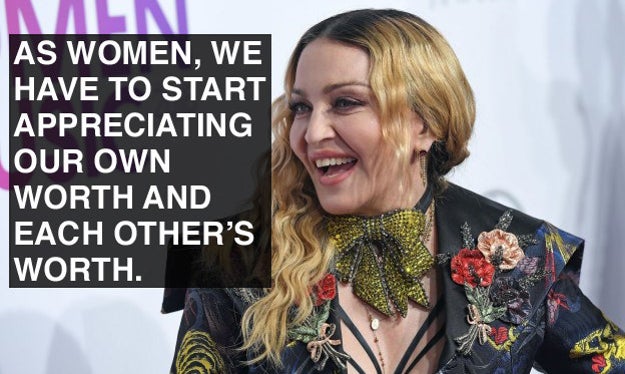 Speaking at the Billboard Women in Music Awards, the iconic performer addressed her radical career — and the misogyny she's faced: "There are no rules if you're a boy. If you're a girl, you have to play the game.
"What is that game? You are allowed to be pretty and cute and sexy, but don't act too smart. Don't have an opinion. Don't have an opinion that is out of line with the status quo, at least. You are allowed to be objectified by men and dressed like a slut, but don't own your sluttiness, and do not, I repeat, do not share your own sexual fantasies with the world. Be what men want you to be, but more importantly, be what women feel comfortable with you being around other men. And finally, do not age, because to age is a sin. You will be criticized, you will be vilified, and you will definitely not be played on the radio. …
"People say that I'm so controversial, but I think the most controversial thing I have ever done is to stick around. What I would like to say to all the women here today is this: Women have been so oppressed for so long, they believe what men have to say about them. And they believe they have to back a man to get the job done. … As women, we have to start appreciating our own worth and each other's worth. Seek out strong women to befriend, to align yourself with. To learn from. To be inspired by. To collaborate with. To support. To be enlightened by."
Angela Weiss / AFP / Getty Images
---